CASE #2: HEATH + NAOMI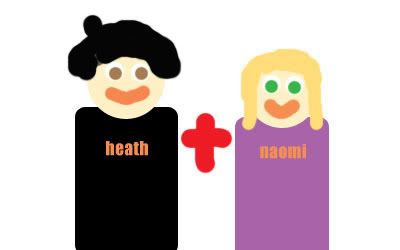 SUBMITTED BY: HEATH
LENGTH OF RELATIONSHIP: 4 YEARS
INFO: Naomi and I dated for a long time and it was good, but like everything, it ended. I began dating and got engaged to someone else quite soon afterwards. We did that thing where we say "Let's be friends", but I found out that it only really works when both parties truly want just a friendship. This was written after we'd been broken up for 7 months. I'm sure there was a reply, but I deleted it, Cause I'm an idiot.

----------------------------------------------------

DATE: January 27th, 2005
FROM: HEATH
TO: NAOMI
SUBJECT: You gotta be cruel to be kind.

Naomi,
I'm sending this now to ease your imagination and cause we probably won't be able to get together soon to talk about it, cause you're working and I'm headin' out of town.

Anyways, here's what I have to say. It sucks but I don't see any other way. You might want to print it out and read it somewhere other than an Internet cafe. Cause it ain't pretty.

We shouldn't hang out anymore, for 3 reasons:

#1- We're not friends. I want to be just friends but you're always looking for more and until you think of it as friends instead of checking to see if my ring's gone, then it's not going to work. It's not right to hang out if you're still in love with me when I have no such feelings for you. I was naive to think that because I was over you that you'd be over me and everything would be just as I wanted it. Friends. So that's my fault. I apologize if you thought I led you on by wanting to hang out.

#2- You need time away to accept that I'm not coming back. Jump out of denial. It's over. Get the net. What we had wasn't what I wanted and what I have now is great. To stay in it to make you happy and make myself miserable would be bullshit. So I was selfish as I needed to be, and I needed everything we didn't have together.

#3- Your facade of over confidence is unattractive and really seems pathetic at times, the "I'm the best thing you'll ever have" and "you don't know how good you had it" and "You're making a mistake"... Oh, and my favorite, "when you realize, you'll be back", etc....

The fact that you think I'm making a mistake means you think I'm a retard, that I have no idea what I'm doing and making the biggest mistake of my life. How could I make a 7 month mistake? If you and I were meant to be, we'd be. But we're not. If you knew me you'd know that if this was a phase it wouldn't last 7 months and I could never be with someone who had such little faith and respect in me. It's insulting.

You, along with every hollywood movie, have said, "When you know, you know" and yeah, I know. I'm in love with Michelle now, I respect her entirety, we connect on every level and I never want to be anywhere else when I'm with her. I didn't feel that with you. That doesn't mean you're a bad person or any of that shit, it's that you're not the person for me, and yeah, I'm not the one for you.

Sorry to be a dick about it, but it's been too long and maybe I've been too nice cause it doesn't seem like I got the point across. I'd love to be friends in the future, but it's not working right now because our views clash and don't work together, it's not fair to any of us.

Your rebuttal is welcome but it won't change anything. I'm engaged, so what bigger hint do you need? This is what you need to get over cause you're wasting time thinking it will go back to normal and everything will be perfect cause it won't.

And honestly, I'm sick of breaking up with you. You're smarter than that (as you say) so prove it.
Take care,
Heath.