CASE # 46: RACHEL + RICK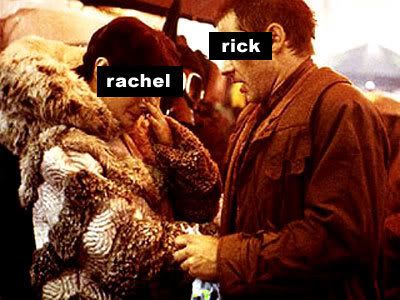 SUBMITTED BY:RACHEL
LENGTH OF RELATIONSHIP: 15 MONTHS, 9 DAYS
INFO: N/A----------------------------------------------------DATE: Tuesday Feb 7, 2006
FROM: RACHEL
TO: RICK
SUBJECT: Please don't delete this without reading it
So I guess you're not going to forgive me. And there's nothing I can say about it, is there? I was the jealous insecure basket-case who read your diary - so I'm the BAD ONE. Your male friends will say you're better off without that psycho bitch. And Pris is already stroking your hair and cooing how you deserve someone better...
Well, you do deserve better. I just hope you can still remember a time when that someone better was me. Before everything at home went to shit and it got so hard to get out of bed in the morning. This isn't an excuse - just an explanation. I've counted on you so much to be there for me. So when you got that mysterious call from Zhora at 11 PM and you said you couldn't talk about it, I freaked out. I know she still loves you. She told me she still loves you. So was it really insane of me to worry about it?
If this is really going to be the end of something that at least I thought was pretty goddamned special, I guess I need to know exactly what it is that you can't get past. That I didn't trust you enough? That I didn't respect your privacy? I know these are bad things. But are they literally unforgivable ?
I'm not going to pretend that there isn't an element of need in my asking you to let me into your arms again. But don't you pretend that it would be charity on your part if you did. I was awfully fucking good to you most of the time - even when it wasn't always easy to be.
So can't we say that we're two flawed people who make each other happy 85% of the time and get past this already? If I blew it over something so stupid, I'm going to be very, very upset.
----------------------------------------------------DATE: Tuesday Feb 7, 2006
FROM: RICK
TO: RACHEL
SUBJECT: Re:Please don't delete this without reading it
Yeah, it was pretty goddamned special. And yeah, you blew it. But how upset that makes you isn't my business any more.
You could have said, "I need you and I'm scared you're going to leave me for Zhora." And I would have kissed your eyelids and taken care of you and made you feel safe in my love. But instead you took what didn't belong to you. You showed a side of yourself that was small and nasty. If there's anything I can't forgive you for, it's making yourself ugly that way.
Obviously, I still love you. But I'll never trust you again. So there's no point in faking it. I'll try to remember the good things. There's nothing to stop you from doing the same.
Please don't e-mail me again.