CASE #63: MYSTERY LETTER #3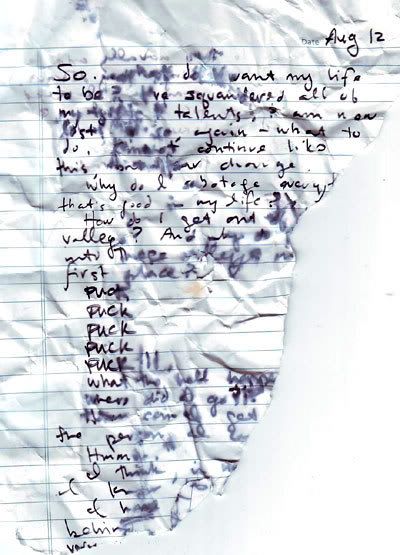 front of first page
So... do want my life to be? I've squandered all of my... talents & am now lost. So, again - what to do. Cannot continue like this but fear change. Why do I sabotage everything that is good in my life? How do I get ... valley? And why do I... into these...valleys in the first place?

Fuck
Fuck
Fuck
Fuck
Fuck!!

What the hell happened. Where did I go?
How can I get...

the person I ...
hmm....
I think...
I have to ...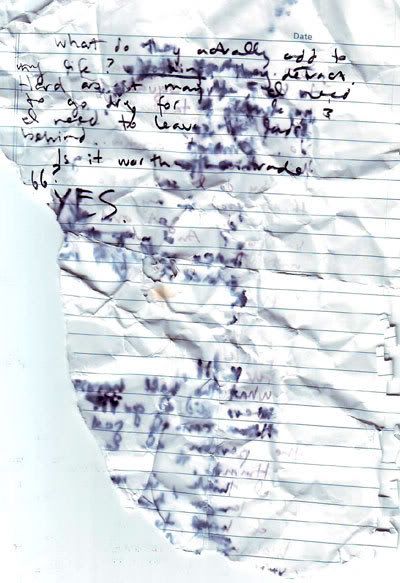 back of first page
What do they actually add to my life? Nothing.They detract.
Hard as it may ... I need to go drug for a while & I need to leave the... behind.
Is it worth the trade GG??

YES


miscellaneous chunks
hard.. But .. destroy myself.
back to...
used to be?

my heart...
SUBMITTED BY: ???
LENGTH OF RELATIONSHIP: ???
INFO: These are a few big chunks of a letter, found by Dwayne during one night while dumpster diving for heartbreak.----------------------------------------------------
OK folks... that's it. Spooky, huh? This time, we're gonna let our readers reconstruct it before we weigh in with our own stories. Comment away!