CASE #8: HARRY + MARY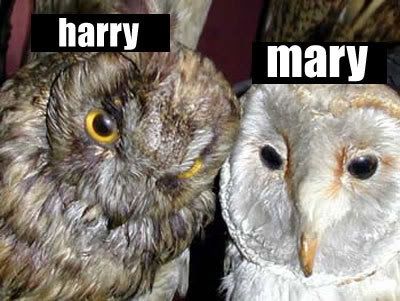 SUBMITTED BY: HARRY
LENGTH OF RELATIONSHIP: 3 YEARS
INFO: Mary and Harry dated for 3 years, and they had lived together for 2 of those years. They had a beautiful apartment and everything was grand, until Mary started wanting something more... but not in a good way. Mary loved her school which will stay unnamed, or lets call it, a University in T******. But the people on her campus were very trendy, and loved clubbing, duct taping their boobs for more cleavage, and boys with no future. This caused a lot of problems as Harry was not into this... Harry got very upset to see his girl changing so fast and dramatically. Then in February of this year Mary took a trip somewhere warm with her friends, when she arrived home there was no more room for Harry in her life.

Harry came home one Sunday night in February to find his apartment in shambles, everything was gone...well not the furniture but the good stuff, blankets, sheets, pillows, shampoo, food etc. and there was a note (that unfortunately has been destroyed) that basically said..."I'll call you when i am coming for the rest of my stuff"

Harry was, upset, hurt and most of all confused... what had happened? So the very next morning he phoned her, and she hung up. So Harry phoned again, she hung up he continued to do this 10x till she answered and said "leave me alone". He started to get the message that she had dumped him... without actually being dumped, cause remember, Harry drove her to the airport and gave her a big kiss and a hug and said "I love you" just days before when she left for her warm trip, but had not seen her since she got home..

Harry then hung up the phone and headed home where, lo and behold, the Police were waiting for him at his front door, only to take him into his loveless, lifeless house and throw insults and warnings at him as well as a restraining order to never step foot on that University of T******'s soil again... well not until 2010. After about 45 minutes of being questioned as if Harry had killed her and hid her body, they left, Harry made some food and curled up on his bed with no sheets, 2 sweaters for blankets, and a coat as a pillow. The next day the phone rang at 7:30am: it was the police warning Harry if he did not leave HIS apartment between the hours of 10am - 2pm he would be arrested, so he got up, showered with no soap or shampoo, squeezed an old tube of toothpaste to get a little out, and stepped outside to get into his car and drive off. The police were parked across the road and followed him to school. When he got home there were no more movies, tables, alarm clocks, computers, desks, or anything; just a couch, a bed and another note that said, "Please do not ever treat me like that and put me in such a hard place by calling me so many times ever again, goodbye, Mary"

That was the end, she came back every now and then for re-assurance that Harry still was hurt, but Mary carried on to her new life of bad music, clothes and hang out spots.

Harry moved out, broke, and having to hit his parents up for more than 1500 dollars because all the bills were left with him, and all the rent.----------------------------------------------------DATE: Monday, February 28th, 2005 2:15 AM
FROM: HARRY
TO: MARY
SUBJECT: Re: why?
Mary,
Where the hell do you get off....come get the rest of your stuff whenever, i'll just sleep on the floor eat straight off the george foreman... and don't worry i won;t touch any of it!!!!!!!! what were you scared of???? Why did you call the police!?!?!?! u wanted to prove a point, and make me feel shitty for it and don't worry I do!!! I totally trusted you it was just a lot harder after you kissed someone. you of anybody should know how that feels!!!!you never shut up about being cheated on 5 years ago!!! Anyway your're not a monster I just want you to know how badly my heart was ripped out when you cut off contact with me, by Calling the police!!!!!!!!! You say you still love me, but I just believe if you really did you would want to see me, talk to me, and ease my mind...and maybe, if you were up to it...end a 3 year relationship to my face. Anyway, ....guess i'll never see ya again cause i am not allowed says this little pink sheet from the police, who were more than generous on offering up information on ways i could be arrested., have a nice day, say hi to the bitches for me.
-Harry
DATE: Sunday, March 13, 2005 8:33 AM
FROM: HARRY
TO: MARY
SUBJECT: ...
Mary,
Call me, and tell me why this happening...i need an answer or i am coming over
Harry