CASE # 67: CHAZ + ZANDRA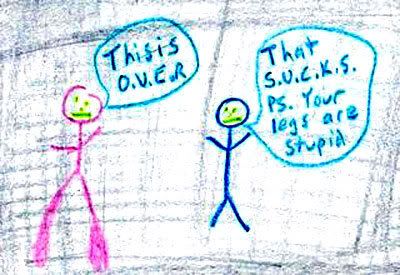 SUBMITTED BY: ZANDRA
LENGTH OF RELATIONSHIP: Maybe 4 years.

INFO: Chaz and I dated for maybe four years, off and on. We first met in class and he started dating a "friend" of mine. After their relationship ended and I was finished with school, we started talking on the phone for hours at a time everyday and of course we started dating. It took about three months for him to even kiss me, then we couldn't keep our hands off each other. After a series of me telling him I wanted a break & then getting together again, we took our last break then got together again. We were together but not officially dating though I made it clear that I wouldn't cheat on him and I expected the same from him, which he agreed to.

One day he went to a party with a close friend of mine and her new girlfriend, meanwhile I went to a different party down the street from where I lived. He showed up around 11pm and as soon as I saw him I knew he had cheated on me. I left without a word to anyone to go home and call my friend that he went to the party with, I confirmed he had rolled around with her girlfriend. I went back to the party where he was (it was in the back yard) and I ran at him. He was caught off guard so I hit him a few times before a guy pulled me off of him. I left and then a few days later...----------------------------------------------------FROM: CHAZ
TO: ZANDRA
umm i dont kno what happend the other night that made u so upset. i wish i knew bc i dont want u mad at me. i love u soo much and i just dont know what happened. please email me when u get this.
love, chaz
----------------------------------------------------FROM: ZANDRA
TO: CHAZ
You seriously don't know what happened? Are you seriously so bigheaded that you didn't think Alice would tell me what you did with Tiffany that night? Are you so bigheaded that you didn't think I would fucking KNOW when you had cheated. I've been with you for a lifetime it seems, so I know when you've done something you don't want me to know about. This is O.V.E.R. I never want to see you or your new girlfriend again. I hope she gives you herpes. Yeah, that rumor was true, Alice told me.
----------------------------------------------------INFO: He then called me about three times the night I sent that, I was screening and he left a pretty pathetic message on my answer machine that went somewhere along the lines of:

"I thought we could see other people. I love you so much. Please don't hate me."

(Kinda like Ross's "We were on a break!" thing.)

Meanwhile, I found out from his best friend, Carl, who was also my best guy-friend that he had broke his (Carl's) car's window whenever he read my first email. So of course, I paid for the damages because I knew Chaz wouldn't.----------------------------------------------------FROM: CHAZ
TO: ZANDRA
ok i know i did wrong by u. it was stupid and we were wasted. i just want u to love me again.
----------------------------------------------------INFO: Which was followed three days later by a message on my answer machine calling me a bitch, cunt, and saying I was the one who never did anything for him and that I was going to have to pay for hitting him. Which was followed by: I'm so sorry Zandra. Did you change your message machine code? (Of course I changed the fucking code. Oh, and I'm a 5'2" girl hitting a 6'0" guy, how in hell could I have hurt him?)----------------------------------------------------FROM: ZANDRA
TO: CHAZ
I don't want you back. You can't threaten me back or guilt me back by offensive messages and then twenty seconds later a pitiful apology. You're friggin pathetic. I don't want anything from you and you've already gotten everything you'll get from me. I hope someday you can look back on this and remember what good times we had before you did this shit. I'm sorry I hit you and everything, but it was the thing to do at the time on my part. I don't want to be friends, I barely want to be acquaintances. I just want you to leave me alone so I can get on with my life without having some 170lb. asshole on my back. I'll send your stuff to Carl's and I'm keeping the Playstation 2, because that was for me anyway, you just took over it. You can have all the games you bought for it though. I don't want anything of mine back except for those pink panties.
----------------------------------------------------INFO:For about five months we didn't talk to each other, whenever he went to a party I was at I would leave, whenever I saw him anywhere, I would leave. THEN we saw each other at a friend's birthday and I couldn't leave because I was to sing for him in a maid outfit (costume party). After I was done singing, I went and changed and I was heading out of the bathroom when I saw Chaz standing by the bathroom door waiting for me. I said hey and we started talking about the party. We exchanged numbers and he called later that night and asked if I wanted to meet him at a bar, I was about
four blocks away with some friends anyway so I said yeah.

To keep it short, we met, had sex, started our relationship back up. Three months later, we were in my bed eating some AMAZING sugar cookies, and he told me that it hadn't been just Tiffany that night, that it was two girls that night (different times, don't get excited boys). The friend I called to confirm he had cheated on me. Alice.

I threw him out, fast. I recieved three texts saying he was sorry and he really did love me. Then another saying I was a whore anyway.

All in all, a lot of time wasted on my part not having hot sex with his best friend.

Oh, but I did key Alice's car.