CASE # 26: ALABAMA + CLARENCE
INTERCEPTED BY: ANONYMOUS
LENGTH OF RELATIONSHIP: ?
INFO: This letter is one of many attempts to rekindle a love-affair that never existed. As a prank, someone at the place I work at pretended to be an actress, let's call her "Alabama", on a dating website, and started a conversation with a random guy, we'll call him "Clarence", who lived half-way across the world. As a result, Clarence fell in love with who he thought was Alabama, and when 'she' ended all communication with him, he was devastated and decided to bombard her talent agency with voicemails, emails and finally this hand-written letter - the latest attempt to discover why the internet love of his life stopped talking to him.
note: the person who sent this case in is NOT the same person who played the prank. e-closure.com does not condone pranking people into desperate heartache, or into any heartache whatsoever.
----------------------------------------------------DATE: November 16th, 2005
FROM: Clarence
TO: Alabama

front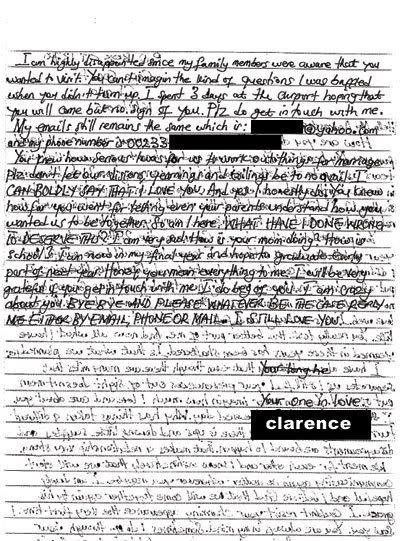 back
read the text below:
front:
Hello My Dearest One
How are you doing? It's been almost a year ago since I heard from you. My heart is full of sorrow and my eyes are full of tears as I write this letter. What did I do wrong my love? What happened in such a haphazard manner so all our plans and aspirations has been shattered? I didn't expect that this would happen in our loving web. A relationship in which we have taken so many years to build.
You promised to visit me here in Ghana the 24th of December last year and that was all until now. I knew love could be so painful, but I didn't realise it coule be very hurtful and disastrous like mine. I put all my trust and hope in you. My heart solely remains for you and no one else. Life is meaningless without you. I am all alone in this empty love web. I was so happy and full of excitement when you came into my life. You really took the better part of me. And now all what I have yearned for in these years has been shattered. Is that what we planned for.
I have always told you that even though there are many miles that separates us, I still feel your presence out of sight doesn't mean out of mind. You can never imagin how much I love and care about you. I think about you each blessed day. Why has things taken a different turn? In every relationship, there is ups and downs, little scuffles and disagreements are bound to happen. That makes a relationship very strong.
We ment for each other and I know instinctively that we will start communicating again no matter wherever you may be. I am very hopeful and I believe God that we will come together again by his grace. I couldn't resist your charmin appearance the very first time I saw you. You are always in my mind. Sometimes I do go through your previous messages that you have sent me and I begin to cry. Cos it was perfect from the start. I DO HAVE A STRONG BELIEVE IN DISTANCE RELATIONSHIP. I know its just a matter of time and we would be facing each other had it not been what happened on the 24th December last year.
P.F.O. TURN OVER ---->
back:
I am highly disappointed since my family members were aware that you wanted to visit. You can imagin the kinds of questions I was baffled when you didn't show up. I spent 3 days at the airport bu no sign of you. Plz do get in touch with me. My emails still remains the same which is: ********@yahoo.com and my phone number is 00233-***-******.
You knew how serious I was for us to work out things for marriage. Plz don't let our visions, yearnings and toilings be to no avail. I CAN BOLDLY SAY THAT I LOVE YOU. And yes I honestly do. You know how far you went for testing even your parents understand how you wanted us to be together. So am I here. WHAT HAVE I DONE TO DESERVE THIS? I am very sad. How is your mom? How is school? I am now in my final year and hope to graduate early part of next year. Honey you mean everything to me. I will be very grateful if you get in touch with me. I do beg of you. I am crazy about you. BYE BYE AND PLEASE WHATEVER THE CASE REPLY ME EITHER BY EMAIL PHONE OR MAIL. I STILL LOVE YOU.
Your long he
Your one in love.
Clarence.