CASE # 29: DHARMA + GREG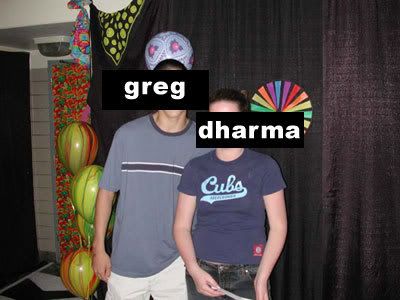 SUBMITTED BY: DHARMA
LENGTH OF RELATIONSHIP: 9 months, then again for 6 months.----------------------------------------------------DATE: Fri, 16 Dec 2005 11:28:15 -0800 (PST)
FROM: DHARMA
TO: GREG
SUBJECT:I'm sorry I can't do this over the phone...
...but I'm being a coward. We're growing apart. You want to settle down soon. I can't even imagine that right now. We have to break up. Plus it still bothers me that you let Jimmy blow you. I don't think the fact that he's a guy bugs me as much as he's my neighbor. I've dated five guys seriously in my life. And three of them have slept with one of my neighbors and four of them have had a guy on guy experience. And you got two in one.
Call me after the New Year. I still have your stuff, it'll be safe. I can store it for you or you can get it whenever is convenient.
I'm not going to talk about this. If you call, I'm not going to answer. I'll talk to you in a few weeks.