CASE # 21: TIM + JILL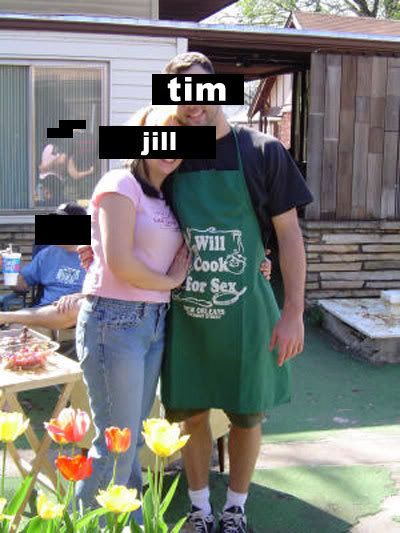 SUBMITTED BY: JILL
LENGTH OF RELATIONSHIP: 9 MONTHS
INFO: It was awesome for about the first two months, then seven months of trying to fit the person into what the other one thought they were when they first met. Lots of frustration from me, emotional withdrawl from him, and no less than 4 breakups, initiated by me. Of course my dumb ass initiated the getting back together too. Anyway, you'll probably want to edit it. And the sad thing is, I was in love with an idea, not the person I was with. ----------------------------------------------------DATE: Monday, June 28, 2004 10am
FROM: JILL
TO: TIM
SUBJECT: Re: Is that your final answer?
I want some closure & I'm not sure if you understand the way I've explained things before. I love you & miss you & I cant hardly talk about you without wanting to cry or throw up. But when I get upset & I'm hurt, the way you look at me is like you just want to escape, like you're afraid of me. And when I leave, you dont try to stop me. That sounds like I'm playing games, but I dont want to give love & not get it back. I want to be honest, but I dont feel like you tell me anything about how you feel. And I could see us having a life together, but I dont feel like you do. I want to be as special to you as you are to me, but I feel like it's one sided. I wish I knew where it went wrong, what I did wrong, & I'm sorry. I dont want to hurt you but I dont even believe you'll respond to this email. I want you to be able to take some risk & open up & tell me what going on. Anything good is worth fighting for, & I'd fight to keep you but I'm not going to fight against nothing. I love being with you, but I feel like you keep me there so you're not alone. I don't understand why you can't answer my questions from the other night. And because you cant answer them, that's my answer. I have to assume there's no place for me in your life. It's not enough anymore just to tell me you miss my laugh, miss my smile, miss my presence. I want to know why missing me is not enough to make you try. Sex the other night was awful, because it wasnt love and I love you. And I hate that you can let me out of your life so easily. Why do you let me go?
----------------------------------------------------DATE: Monday, June 28, 2004 3:51 PM
FROM: TIM
TO: JILL
SUBJECT: Re: Is that your final answer?
k, i'm not mad at you, but sometimes i feel like your mad at me because your not getting what you want out of this relationship. i think your a great girl, your funny, smart, very pretty, and you have direction in life. i don't want you to feel like i'm playing games with you at all. we have discussed that we should see other people. i guess i wonder why i should want to, but i still have the urge to. why would i want to see other people if i knew you were the one? when i think long term, and i think of who i want to spend the rest of my life with, i don't see you as that person, and a lot of that is the way we are. i think your fantastic, but i don't want to waste your time. you really make me laugh, and i really like spending time with you, but i don't feel like you are "the one" for me, or the person i can't live without. i just don't. maybe it's a weird time in my life, and i still feel like there are things i need to do alone before i'm comfortable with spending my life and opening up all my good and bad to someone. yes, i'm lonely, but i would rather be lonely than feel like i am lying to myself. yes, sex the other night was horrible, so i really don't want that again. i do enjoy making each other laugh, but i'm not sure being around me is something you want. i'd be happy to help you with the house if you need it, but i can't be in your life the way i think you want me in your life.
----------------------------------------------------DATE: Monday, July 05, 2004
FROM: JILL
TO: TIM
SUBJECT: Re: Re: Is that your final answer?
Lame as this may be, I need to know why. I need to know what turned you from wanting to plant 2-3 years worth of asparagus in my flowerbed to not caring if I'm in your life. What changed from the first time you told me you loved me to the time you accepted the fact that you'd leave me & hurt me? Maybe I want to know what I did wrong, But I don't think it's me. You told me once when you were drunk you'd rather marry me than never see me again. You told me you didn't want to be with anyone but me. It seems like no sooner did I open myself up to the possibility of having you as the center of my world, then you threw me out of yours. I think men want what they cant have. Do you prove me right? I don't want cause to be bitter, I just want the truth. I need your honesty now more than ever. I believe you & Stephanie are rekindling old flames, so if that it, good for you both if that's what makes you happy. Truthfully, you & I both know we weren't the match, but the thought that we came so close at one time breaks my heart. Please be honest, anything else is cruel. I have to know, it's hard enough gettting over you.
----------------------------------------------------DATE: Monday, July 05, 2004
FROM: TIM
TO: JILL
SUBJECT: Re: Is that your final answer?
just to clear up one thing, sonja is happily married and has a son with a really good man. since he's been deployed for the last 9 months, she been going through a lot of "what if" scenarios. there is nothing going on there emotionally for me, except when she told me she lost her virginity to my brother, as that was somehting i did not know. that's about the extent of our current relationship. she's lonely, she doesn't like florida since her husband is not there, and she just looking to talk to familiar faces. obviously my history with her puts me as a bit more than just a "familiar face" but there is, and never will be, anything more between sonja and i due to the decisions we have both made in our past.
as for you and i, we just kept pulling away from each other, and it just seemed more and more weird, especially the last 2 months. you wanted your space, and when i gave you that, i felt really uncomfortable in the relationship. i know you needed it, and that's ok, but it made me feel a bit weird. and then i questioned where it all was going. we had known each other for 6 months, and then you needed more space. i want to make you happy, but i just fel really weird for what seemed to be a backwards step. on top of that, you had the pressures of finding a new job and finishing degrees. so after operations "quasi-clean sweep" at your house and at my apartment, i really didn't know where to go with the relationship. then i got to thinking what i even wanted out a a relationship, what i would look for in a wife, and what i really wanted out of life.
for the near term, my job is really important to me, because i can pay off bills and save money very quickly. i would like to own a house, i would like to save money for danny's college, i would like to do a lot of things, but it all takes money. it's also important to me, because it is a big part of danny's child support. i cannot possibly afford to pay as much as i do with another job. i like tulsa, i like my life here, and unless someone throws hundreds of thousands of dollars in my face, i'm probably not moving. i have obligations that i am responsible for that i cannot turn away from. until some of those obligations are lifted (selling the house, paying off the truck) i really don't have a lot of lattitude in my life to just up and take off somewhere. even if i did though, taking off somewhere isn't as important to me as maybe buying another pistol, or maybe getting new parts for the bike, or even a toolbox for the truck. i guess i'd say yes, i'm 26, and i'm only gonna be this old once in my life, but that doesn't concern me in the least. there is nothing that i can't do at 36 that i feel like i have to do right now. tomorrow will come, and i WILL be here tomorrow, just like the day before, and the day before that. i'm not too much for living in the moment like you, i'm sure you've noticed that. you have a very different outlook on life, and i understand that as well. the things that we both value are a bit different. maybe a lot of it stems from the way i was raised, and being on my own since i was 17. i am by no means perfect, and i still have a lot of things i need to work on in my life.
i think you are in a different position in life. you have debt, but you have a job and a great renter situation that helps you to take care of it. you don't have any obligations like car payments or child support, so you are much more free to do just about anything you want in life. traveling the world is very important to you, but not nearly as important to me right now. you seem to be at a crossroads in life as a whole, and unsure about where to go or what to do.
i need to get to dallas, i have some errands to run down there, but before i do, let me directly answer some of the things you mentioned in your email.
the change was caused by a lot of the change we had in our relationship, mostly why we moved our stuff out of each other's place. you seemed to want distance and space in the relationship, which caused me to not trust you as much.
i don't remember saying that when i was drunk. but since you brought up the drinking thing, there have been several things which you have said and did when you were drunk which i think had a negative impact on our relationship. maybe it was the demons getting out. i may never know, but you still seem to have a lot of anger inside, and it almost always comes out when you drink, and that bothers me as well. even things as simple as me not wanting to get in the pool over at ronald's. so maybe things just progressed to the point that we didn't respect each other as much for one reason or another. and maybe i still don't know what i want out of a relationship.
i agree, i think we both knew since a couple of months ago that we weren't ecstatic over each other like we used to be. maybe it was that level of respect we were losing, or maybe it was simply each of us realizing that we weren't completely satisfied in our relationship. things seemed to be so much on edge, that no, i didn't think you'd be too torn up about things. for all the reasons mentioned above, i thought it would be best if maybe we didn't date anymore, and it seemed to me you felt the same way too. i think you're wishing i was a different person now though, that i would change and be the person you think i can be. maybe your focusing on all the good times. yes, we make each other laugh a lot, and i have a lot of fun with you. but i think there are things that i look for when i think of my next dream woman, my next wife, that i didn't see in you, and i really don't want to waste your time. i would like to be married again, but i don't ever want to be divorced again.
i'll be back in town wed.
----------------------------------------------------DATE: Friday, July 23, 2004 10:46 AM
FROM: TIM
TO: JILL
CC: FRIEND 1 AND 2
SUBJECT: your sorry drunk ass
k, check this out. you sit there in your little world of self depression, and wonder why all this shit happened. you think about us, and how much you hurt, and all the wrongs i did to you. it's real plain and simple. you have issues, you have problems, but none of them i wanted in a permanent basis in my life. i have my own too, but if the shit was gonna go somewhere, it woulda happened. your alcoholic bits of rage, always wanting to go out and party although you tote 12k+ in credit card debt. you're the one who's fucked up, not me. what the hell is up with wanting "more space" after we've been dating for 9 months? i tried to help you with the house, while we were dating, and afterwards as well. you are one of the most troubled, unstable, self centered girls i've ever dated. i do know what i want out of my next wife, you're not her. accept it, move on. i didn't come over the other day to rekindle something, but i thought you may want to hang out, talk as friends. you could have simply said there was another guy over there, not that i would have cared. i do have other things to do, i'm not losing focus of my life without you, and if you'd stop to think about what the fuck we had for the last 3 months, you'd come to the same conclussion. you have goals, and they're not in the same direction as mine. why are you having all the jealous feelings for me now? what the fuck have i said or done to you that was so wrong? all you think about is the good times for some reason, why? why the fuck don't you think about all the shit when there were arguments or whatever. YOU fucking broke up with ME, REMEMER THAT ONE!?!?!?!?!?! it's obvious i'm not the guy for you. go drink your fucking self silly, drown all your sorrows in self pity, maybe a guy will pick up the bar tab. whatever you do, next time, call someone who gives a flying fuck!
don't email frank again. don't call frank again. don't contact frank again. get the fuck out of my life. you have your world, stay in it, don't venture into mine again, ever. enjoy your new times with martin. don't ever contact me again. i don't think i can be more clear. FUCK OFF!
as far as the previous email, please follow above guidelines.
----------------------------------------------------DATE: Friday, July 23, 2004 1:24 PM
FROM: TIM
TO: JILL
CC: FRIEND 1
SUBJECT: Re: your sorry drunk ass
From:JILL
I agree. I was a immature asshole. I wont call either of you again. But by the way, it's 4K now. And I was more than courteous on Sunday when I saw you, because I thought you needed to talk. That must be my self-centeredness. As for more space, I did need someone who could give me more emotionally then you, so I pulled away as not to get hurt as much over the eventual end. As for friends, maybe once I'm more mature & you're more accepting and months & months have passed, possibly. But I doubt that will happen. I'm looking for friends who can forgive & accept, and you both know I certainly need alot of both. And all of us are running short on those virtues these days.
----------------------------------------------------DATE: Monday, October 11, 2004 11:00 AM
FROM: JILL
TO: TIM
SUBJECT: BLANK
I reread your emails & amp; I understand your point. You're a class act.
J.
----------------------------------------------------DATE: Monday, October 11, 2004 11:29 AM
FROM: TIM
TO: JILL
SUBJECT: RE: BLANK
wow. i so didn't expect to see that email. thankyou. very much. i really hope you're doing well, and i truly mean that.
----------------------------------------------------DATE: Wendsday, Oct 13,2004
FROM: JILL
TO: TIM
SUBJECT: RE: BLANK
I hope you're doing good too. You deserve it.
----------------------------------------------------UPDATED FEB 28, 06
So, it's been almost two years ago since we split. But some new information has come out and I'd like to share the story. Because I think it's funny, so you may too.
We break up. He wanted to be friends and I couldn't. Friends don't break other friend's hearts, ya know. And I ranted to this girl, and since we live next door to each other, and share a yard, we ended up hanging out. And Gigi and my other female neighbor would drag me out of my house, pry the liquor bottle out of my hand, and listen to my broken record of a sob story. This goes on for a while. In fact, Gigi gets so sick of hearing me whine, she takes me to go buy a vibrator and shows me how to use it. Alcohol and a vibrator are pretty good ways to mend a broken heart, I must say. And finally I start dating someone new and can make it through the day without crying. And Gigi starts hanging out with some pretty nice little guy pals, so she says. And dating a super nice guy names Casey.
About a month later, Gigi and I go to drown night. And get shit faced. And trip and fall into bed together. Guess who shows back up that very weekend. Yeah, our little Tim. He wants to be pals now, again. And he wants to know what I've been up to. I don't have much filter, and I'm still kinda stunned that it happened anyway, so I tell him about my little misadventure. Whoops.
Forward to about three months post break-up. Casey and Gigi date for about a month, live together for two weeks, and run off to Arkansas to get married. Her third, his second marriage. We throw them a wedding reception, and Gigi won't come. In fact, Gigi won't speak to me at all (unless it's concerning borrowing something of mine). About two weeks after the wedding, Casey confesses to my roommate that right before they got married, Gigi took off to go out of state for the weekend with Tim to visit his pal. She said it was just something she had to get out of her system, to see if feelings were still there. And she told him this after the wedding. And she must be still seeing him, because he doesn't know where she is half the time. Roomie tells me.
I fucking FLIP. All that time when I was sobbing on her shoulder, she was hanging out with him. And fucking him. And not telling me. I kinda saw some signs, but I never really thought about it. But as soon as I heard it, I knew it was true. It just made too much sense. Anywho, I send off a little shit-o-gram, just to let him know nothing stays a secret for long around here. He fervently denies any hanky panky. He says they are just friends, and yes, they went to visit his friend together, but then Gigi and the friend got into a fight so they won't be doing that again. But neverless, he states, they never slept together. I tell Casey they need to look for a new place to live. The whole thing makes me feel used and dirty and I don't want to be reminded of it. But I do give Casey Tim's address, just in case he need to do a drive by. And let him know about Gigi's and my little incident. As well as Gigi and and two other gals' little incidents. Needless to say, she hadn't told him about her bisexuality. Oh, it's Melrose Place over where I live. And I'm not doing anything to lessen the drama, either.
Cut to about a year later. Gigi and Casey's marriage had lasted about another month after he dropped the bomb on me. She calls the cops on him for spousal abuse and when he gets out of jail, the entire house is cleaned out. And he's just bought three new sets of furniture. I think she served him the next day with divorce papers. And if you knew this guy, he didn't hit her. She's just nuts.
About this time, I run into Casey at the bar. My friends call it a night early, and Casey sticks around to commiserate with me. We sit and bad mouth our respective exes, and get good and loaded. And go home together. And revenge sex, while immature and wrong, still felt pretty good.
Anyway, the point of the story. I run into Casey Saturday night. She called him that week. She said she had dropped the charges, and could he give her $1300 dollars? I thought that takes some chutzpah, but then he keeps talking. She took her three kids, took them to their respective fathers (one of whom she's tried to have arrested repeatedly for alleged child molestation) and dropped them off. "Here, take your kids." Then high-tailed it out of state where she is currently living with my ex-boyfriend who also has nothing to do with his own son.
Usually, this would have hit me like a punch in the gut. It did bother me a little, but my first reaction was to laugh and tell Casey "Thank God, those two deserve each other." But I was still wondering why I kept thinking about it. And what I've come to think is this. I held that heartache close, cherished it even. As long as I was in love with the idea of someone, I couldn't fall in love with anyone new, and I couldn't really ever get hurt. So, I don't even think he broke my heart, I think I did it. While, yes, I was very hurt, I magnified it. Poked and prodded it, picked at it and hoped it would never heal. And yet, somehow, it disappeared on me. So, dammit, now what am I going to use for armour?
I guess now maybe I should try out that old axiom "Love like you've never been hurt." Or at least stop dating self-centered geeks and falling into bed with self-centered backstabbers. And maybe grow up a little myself. I think I'm ready to try it. A little common sense, a little good judgement, a little abstinence....We'll see what the future holds.