CASE # 56: DAWN + LAURA
SUBMITTED BY: DAWN
PERSON WHO ENDED IT: LAURA
LENGTH OF RELATIONSHIP: 4 YEARS
PLACE OF RELATIONSHIP: SWITZERLAND, SPAIN, USA
SEX: SAME SEX - FEMALE
INFO: My relationship with Laura lasted about 4 years. I'm an American who had been living and working in Zurich, Switzerland for several years. Laura is Swiss and she was a university student during the time we met. I was crazy about her from the moment I first laid eyes on her! We met at a gay club, I watched her all night wishing she would take notice of me too. Eventually she did and our story began. I fell crazy in love with Laura! She was the perfect girl of my dreams. She drove me crazy more often than not because I had a very hard time figuring out what place I had in her heart. She definitely loved me (in her own way) but she also broke up with me two times because she realized she wanted something different. Our final break-up was April 2001. I had moved back to New York the summer before and Laura had visited me that Christmas (Dec. 2001). We spoke about her moving to New York, but several months after she returned to Switzerland things changed... she met someone else. I took our break-up extremely hard. She tried to be my friend. I couldn't do it and eventually asked her not to contact me anymore. We didn't see, speak or write with each other for 4 years! This past Christmas (Dec. 2005) I received a short e-mail from Laura.----------------------------------------------------DATE: Sun, 25 December 2005
FROM: Laura
TO: Dawn
SUBJECT: Merry Christmas
Hi Dawn!
A long time has passed since I last heard anything from you. I hope you are doing alright. I wish you a Merry Christmas and a joyful New Year.
Laura
----------------------------------------------------DATE: Tue, 27 December 2005
FROM: Dawn
TO: Laura
SUBJECT:Best Wishes...
Until we meet again...
***Attachment enclosed***
(This is an actual photo of a paper with an appointment we made the first year we were together. We had both agreed that whatever would happen in the future, we would again meet in the year 2012. On the exact date we had first met, November 15.)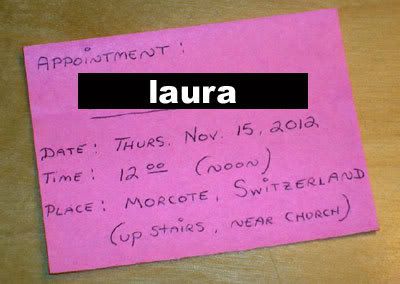 ----------------------------------------------------INFORMATION:There was no response from her after I sent our appointment reminder . Then one week ago I decided to ask her a question I had long wanted to know. This is how it went:----------------------------------------------------DATE: Mon, 22 May 2006
FROM: DAWN
TO: LAURA
SUBJECT: One question please...
Over the years I have sometimes wondered if you ever felt uncomfortable about the way things ended? A yes or no is really all I need. Thanks.
----------------------------------------------------DATE: Tue, 23 May 2006
FROM: LAURA
TO: DAWN
SUBJECT: One Answer...
Hi Dawn,
If it is really only a yes or no that you need, it's for sure a yes. It was and it is uncomfortable. But I think that a one word answer is a little bit reductive... what's the reason for this question? Hope you are doing alright.
Laura
----------------------------------------------------DATE: Tue, 23 May 2006
FROM: DAWN
TO: LAURA
SUBJECT:Thank you
Laura,
I never found my peaceful place with you or any closure. And though it is still very uncomfortable for me too (one reason I like reductive answers) I was hoping that question and your answer would at least make closure attainable someday. Sure, there are still a lot of unspoken things between us. For a long while I had kind of hoped I'd get a letter from you someday explaining everything. Later I was glad that letter never came. The less you know the better off you are sometimes. I even thought that maybe I'd see your CD in a store one day, listen to a track and have one of my many burning questions answered!? LOL!
It's strange actually... there are other people I have yet to find peace or closure with but it doesn't make me feel uncomfortable. With you that was never the case. Thanks for your answer. It helps.
I'm ok and I hope you are too.
Dawn
----------------------------------------------------DATE: Wed, 24 May 2006
FROM: LAURA
TO: DAWN
SUBJECT: A little bit more than a yes (if you want to read it)
One evidence that there is still something unsolved between us is that I felt petrified for a moment when I saw I got an e-mail from you... what a surprise! The letter you expected never came for many reasons: because you told me not to contact you anymore, because I didn't want to cut open old wounds (yours or mine), because, simply, we misunderstood each other too many times, and finally because many souvenirs and perspectives change with time. Of course I've thought about the end of our relationship many times and of course about the relationship itself. How could I not? Many things have happened and changed during these last four years and I've got plenty of time to think about why it didn't work and why it ended the way it did. I'm not sure that it would help to express my opinion.
Why is it still uncomfortable? Probably because 4 years ago we would have never managed to be friends. We couldn't go out of the reproach-accusation-hurt feelings cycle so we simply stopped talking and now I have no idea about what has gone on in your life, if you are happy now, if maybe you realized it was better to have me out of the way. I don't know how you feel when you think about me now, I hope not too pissed off and also not that surprised of my choice of starting a new relationship.
Sometimes I feel as if these past years have gone by so quickly and sometimes I can't think of my life as being any different from what it is now. Sorry, maybe it's more than you needed or wanted to know... Wish you all the best!
----------------------------------------------------DATE: Thu, 25 May 2006
FROM: DAWN
TO: LAURA
SUBJECT: The Past (edited version)
Honestly, it was very hard for me to send you that e-mail. Probably much harder than you had receiving it!? Months earlier I had long ago resigned myself to the fact that I would probably never hear from you again. I had no intention of ever contacting you either, but you wrote me at Christmas time (why?). I was very surprised! I don't know why it happened this way, but my first reaction... I cried. I hadn't even opened your email yet. It took me about ten minutes to click and read.
Strangely enough, I had been packing up my things some weeks earlier because I was in the process of moving. I was holding a book that you had given me and a piece of paper fell out. It was our appointment for November 2012... I sent it as a response to your e-mail.
Yes, a lot of things have happened during the past 4 years. Many things have changed. I wouldn't even know where to begin? You were always much more focused than me. I could easily imagine that after you finished your studies, you quickly began your career, moved out on your own, settled into your relationship and eventually got married. None of this would surprise me. I'd be more surprised if it didn't happen this way.
I don't know what to say about the past 4 years? The past 3 are a lot clearer. The first year of those 4 was pretty hard... maybe even the first 18 months after we ended. One thing I think you don't understand is this: It wasn't the fact that you decided to begin a new relationship with someone. It was 'the way' in which you did it that hurt me. I felt completely blind-sided by you. I hadn't seen it coming at all and then out of nowhere you were telling me all these things... you began by saying you didn't feel the same way towards me anymore. You said your feelings had changed a long time ago (I never knew this!?).
Then you went on to tell me that you weren't missing me anymore which also made you realize that you don't love me... then you denied that you were interested or even involved with someone else (I asked you). By then you had already placed me in your 'friend's category' and within a few weeks you felt comfortable enough to tell me that you were in fact in a relationship and extremely happy & in love.
I know I'm leaving a lot of things out but that's basically how it went. It felt so surreal to me at the time.
Looking back now I see things a bit differently, but at the time it was happening I saw it only one way... you annulled our whole relationship... completely erased what we shared... revoked everything! I was totally devastated at that point and you were still telling me to move on and get over it...you were happy so you thought I should stop complaining and be happy too. I realized you just wanted me to get over you (the situation) and move on. I couldn't do it on you schedule and I wasn't ready to transcend into just a friendship with you. I was shocked by your lack of empathy and concern.
Later, thinking back on the whole course of our relationship, I realized a lot of things. The first thing I realized was that I was always loving you more than you were loving me. I had all those crazy butterfly feelings in my stomach all the time! The funny thing about it was those butterflies seemed to live inside of me... every time I saw you I felt that feeling... for more than 3 years! Even until the last time I was you in New York (Jan.2002).
It hurt so much the first time you ended things... that's when I decided to move to Spain. Later you told me you loved me and I came back. I thought about that time too and wished we would have permanently ended back then. Of course I don't feel that way now. If I wouldn't have had those years with you I guess my life would have gone is some other direction and I wouldn't be where I am today.
No, I'm not pissed at you. I never hated you or anything like that. At the end did I think it was better to have you out of the way... gone from my life? Yes. I couldn't have imagined ever getting past the hurt if you had still been around. Thank god there was an ocean between us!
Well, this touches the surface of things a little bit. There's certainly more to tell you. Fill you in on the present, but I'll save that for later... Any chance you spoke with Manuel during the past couple of years?
----------------------------------------------------DATE: Thu, 25 May 2006
FROM: LAURA
TO: DAWN
SUBJECT: Present Day
Dear Dawn,
As I said, I don't think it would be of any help going over what happened back then. I really don't think I could make you change your opinion about me as I don't think I could make you understand why I acted the way I did. Of course that doesn't change the fact that I'm not glad that I hurt you.
About my life, in a way it went the way you expected: I did move out more than 3 years ago and went to live on my own, I started working, I settled into my relationship. I'm not married but I live with my girlfriend. In another way it went a little bit differently: after one year and a half as a physical therapist , I went back to university to study environmental science. I now work in a clinic part time to support myself. That's one reason that CD you looked for never came out... and what about your life?
P.S. You asked me about Manuel. The last time I saw him it was about 3 years ago in
Zurich. After that we exchanged a couple of e-mails. I hope he's doing alright.
----------------------------------------------------DATE: Thu, 25 May 2006
FROM: DAWN
TO: LAURA
SUBJECT: My life today...
The only thing that surprised me is that you're back in school. Good for you! I'm doing more or less the same... with a lot of other things in between. About 3 years ago I had met someone. I had been a full time student at the time and my life was a bit crazy and hectic. The relationship got serious pretty quickly. Within a few months I had the shock of my life... I was pregnant! By the time I was 5 months into my pregnancy my boyfriend and I decided to get married. Things didn't work out as I had hoped and we are now in the process of divorcing. It's been pretty hard at times... things got real ugly for a while. He's actually not American... he's Turkish. Now I have this cute, exotic-looking little man in my life... My sons name is Kaya (a Turkish name). He's two years old and I've been told he looks exactly like me!? LOL! I figured that if you had been in touch with Manuel, he would have told you about my pregnancy and all.
Anyway, I'm back in school again too. I studied something in the medical field for a while and worked as a phlebotomist for a short time. It was alright but I got a bit stressed out after a while. My mother had been diagnosed with Non-Hodgkins Lymphoma a couple of years ago. She had surgery and went through chemotherapy... it was hard. She's in remission right now but not cured. It's a chronic form of cancer so there's always the chance she will need treatment again someday.
I'm studying something completely different now... Criminal Justice. It's really interesting. I'd like to work for the Department of Homeland Security someday... Immigration and Customs Enforcement. We'll see how it goes. That's my edited version of the present...
P.S. What ever happened with your sister? Does she have any kids?
----------------------------------------------------DATE: Fri, 26 May 2006
FROM: LAURA
TO: DAWN
SUBJECT: What a life!
What should I say? I'm pretty speechless...
I had thought that you probably would have had an intense life, but actually not that much... I imagined you might have had a baby. Something you wanted already when you were with me. And I'm happy for you about your son. I'm sure he's a wonderful boy.
I'm really sorry about your mom and for your divorce. You must have had a very hard period! I even thought you might have gone back to school but I imagined you'd study something in the educational field... and I have no idea what a phlebotomist is?!? LOL
About my sister: she divorced too, about 3 years ago, and she's got no children... just a god instead, but that's not exactly the same, right? I've got no children and no dogs... I don't know what else to tell you. My life seems to have been pretty quiet these past years. A bit stressing since I've gone back to university, but I'm happy I made this decision because I really love what I'm studying!
Enough for now. I wish you all the best for you and your family. I also hope the next years will be quieter (but not boring) and happy.
Big hug,
Laura
----------------------------------------------------DATE: Fri, 26 May 2006
FROM: DAWN
TO: LAURA
SUBJECT:Re: What a life!
I wish all the best for you too.
Good luck with everything and Take care,
Dawn
----------------------------------------------------INFORMATION: One week after my last e-mail to Laura, she wrote me again.----------------------------------------------------DATE: Sat, 3 June 2006
FROM: LAURA
TO: DAWN
SUBJECT: One more thing...
...actually two.
First: I would like to apologize for ending our e-mail conversation. The reason I did it was because I was arrogant enough to think I might hurt you somehow, not realizing that you are old enough to decide if you feel like talking to me or not. Sorry.
Second: I've been thinking a lot about what you told me in your e-mails and I just
wanted to tell you that if you need or will need my help (for anything) I'll do my best.
Ciao
Laura
----------------------------------------------------DATE: Sat, 3 June 2006
FROM: DAWN
TO: LAURA
SUBJECT: Hummmm... ok... thanks?
I think you think I'm always looking or hoping for something from you... relax, it's not like that. Four years have gone by and my life is very different now, I'm different... so are you. I just wanted to find some peace and closure with you finally and I thought the only way to get there was to tell you how I had felt four years ago, make sense of the past.
Sorry if I made you feel more uncomfortable. That was never my intention. I guess you were right when you said we never really understood each other. Four years later you still never cease to amaze me...
----------------------------------------------------INFORMATION: I felt bad almost as soon as I sent the above reply. The I wrote one last time...----------------------------------------------------DATE: Mon, 5 June 2006
FROM: DAWN
TO: LAURA
SUBJECT: I'm sorry...
I do appreciate your apology... thank you.
And please know I'm here too (if you should ever need something).
----------------------------------------------------DATE: Mon, 5 June 2006
FROM: LAURA
TO: DAWN
SUBJECT: Thanks
Your e-mail was a really nice surprise, thank you!