CASE # 25 : DAISY + RALPH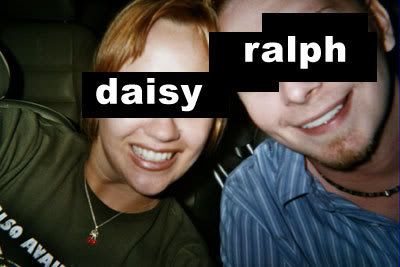 SUBMITTED BY: DAISY
LENGTH OF RELATIONSHIP: under 3 months
INFO: Ralph & I met on a group trip to Dallas put together by some mutual friends. On the last night of the trip, we ended up getting wasted & sleeping together. He knew even before we met that I had a boyfriend in another state & that we have an open relationship. When we got home, we agreed to continue seeing each other. Then things went haywire. ----------------------------------------------------FROM: RALPH
TO: DAISY
SUBJECT: Plans?
*gasp* Damn I just finished typing all this, I didn't expect it to take that long, geez. I hope you at least read it all if you don't want to bother responding, or don't have anything to say. I'll say one thing, regardless of the outcome of all of this, I think you and I will know each other on allot deeper level. I'm usually very guarded, and not easily accessible, and boy howdy you are right in thick of my fucked up head. You better run for your life now.
Well now you know what goes on in that big head of mine, I never said it was pretty. From having read your response to my inner thoughts, I guess you'd say my big head is caused from my "big ego". I think if ego were at stake here, then I'd just say "fuck this" and be done with it, instead of choose to share my feelings with you -for better or worse- which I'd say shows a good deal of humbleness. I put myself on the line for you, naked as can be, big ego's don't do that.
Sucks you can't go next week, guess it wasn't meant to be. Perhaps for the best I suppose. Though I really would have liked to spend some extended alone time with you without distraction, for closure if nothing else.
Insert from previous email from D to R:
OK, I didnt say I cant go, I said I can go, just not the precise dates you requested. I cant take off during the week now anyway, since this bartender deal is too new and I really need the money. I would still like to go to Dallas & introduce you to Polly & Rachel, even if you not my consort. I'm going to have to use that title instead, since you think boy-toy, or secondary, or #2 is all too demeaning.
I don't know how anyone could not find "boy-toy" or "secondary" not demeaning. By definition it's second best, aka not as good, aka fallback aka I'd rather be with #1 but he's not around.
Insert from Previous email from D to R:
how long is my boyfriend in town? Fri-Tuesday. You know I see him every 3-4 weeks and that's been the deal since we met. I knew last week he wanted to come up but asked him to delay it specifically because of your vacation. Obviously, he wasn't pleased, so don't think you're the only one that gets put out in this situation.
No real comment to this, my vacation still didn't work out, but then i need to pull my head out of the clouds (or maybe that's ass) and come back down to reality. My feelings have started blurring my vision of reality, I'm starting to see what I want to see rather than what is actually there, and that's never good.
As for the friends thing, I consider you one of my best friends too, but the difference between us is my feelings for you are more on the love side(red) than the love side (blue)friend side you have for me. If that wasn't the case then yeah, we could go on as friends like nothing ever happened, like you and some of the other guys you've dated in the past do now.... But, since my feelings are so strong for you, I don't think I can just play the 'friend' role,
Insert from previous email from D to R:
So, you can't be my friend because you fell in love with me? Why does it have to be all or nothing? I don't understand how you can tell me that you love me & want to spend time with me, think I'm great and all that, but you're not going to see me in any capacity unless it's on your terms. I don't think at any point I've mislead you, but I do feel like I'm being punished.
I think where I went wrong was telling you that I fell in love with you, I should have never done that, and when I found my defenses starting to crumble, I should have retreated then- Instead I kept my head in the clouds, I guess hoping you'd tell me you loved me too (and you know what love I'm talking about) but you didn't, and so here we are. I must admit, I did think you loved me back the way I love you, you wouldn't say it, but I honestly felt you did, you just wweren't prepared to admit that to yourself, let alone me. Clearly, my love goggles blurred this too, because having read this e-mail, I see now I was mistaken. Your feelings are exactly as you say they are, and I have believed to myself that you did feel the same way about me, you just didn't want to tell me so. I was wrong, and you were never mis-leading, you told me exactly how it was, and I saw what I wanted to see. I guess I've been walking towards a mirage in the desert, and now that I finally got there, I find that there was nothing there after all though I sure believed there was. I like how you point out " BECAUSE YOU FELL IN LOVE" boy did have you figured all wrong, I really thought you were with me. *laugh* I would not want to hear about guys your dating,
Insert from previous email from D to R:
Well, I don't really want to hear about Kristen. I ask because I need to know. It helps me put that distance in my mind between us. I really regret telling you anything about my relationship w/ Mike other than it exist. What happens there is none of your business, and I feel like it's only being used as a weapon against me. I don't think my feeling for him & my feelings for you are at all tied together, or in any way at conflict. You can have more than one good friend, and that's the same way I deal with it.
Well, we all have regrets. I regret you feel the need to put distance between us, I regret ever developing feelings that you don't share, and yet here we are. You feel I use it as a weapon, though I've never told you it was Mike or me. That weapon would clearly backfire so why bother to fire it? It kinda hurts when you say "none of your business", considering he shares an equal or more part of something I care deeply about, I think that makes it my business. I don't have ANY animosity towards Mike, but that doesn't mean I like the fact you give him a part of you I can't get to because you've already given it to him. Your philosophy seems to be take what you can get, but that glass is half empty no matter how you look at it.
I would not want to see guys your dating, and regardless of whatever/whoever I'm doing, when it comes down to it, I'm still gonna want to be with you and can't. Maybe time (which we don't have) could heal that gap, but I suppose we'll never know.
Insert from previous email from D to R:
This is going to create a rift in our social circle if you continue this way. I wouldn't expect you to want to hang around with Mike, but I'm still going to bring out other people, and you're going to assume they are the new "boy-toy" when they are merely financiers. I have several people in my life who take me out because they don't have anyone else to get them out of the house, to make their day interesting, and to bring them into new situations and people. Most of them I have "dated" in the past, and they are aware that sex is not part of the deal. But I'm not going to sit at home on my couch just because you're jealous.
I am well aware of the rift is going to develop in our social circle, that's what happens when you date inside the circle and things get more serious than casual for one & not the other. I still can NOT believe I'm the one on the wrong end of the gun, if you'd told me that's where I'd be 3 months ago, I'd have laughed, cause I'm way to cold-hearted and lack emotion. (boy was I wrong). You know I don't think I have a problem with you going out with a different guy every night as long as your willing to continue to reassure me its just friends...its very easy for me to think that 'just friends' might evolve to more than that and next thing you know I'm out the door for that guy, when all along I let that relationship flourish until it replaced me. Especially when were talking guys you've already dated, which means at some point there was (and may still be) some attraction going on. I don't expect you to sit on the couch, it'd be nice if you were out with me, but if your willing to tell me when you have plans so I can make my own plans and willing to reassure me everything is cool, then I could be peachy keen with that. It sounds incredibly lame for me to sit here and read what I just wrote where I'm sitting around waiting for you to tell me when your going to have time for me and when your not, but I guess the good out weighs the bad in this case so long as you were willing to meet me half way on ensuring I'm still more important. (and yes I expect to be more important than the random friend your going out with, if I'm on exactly the same level as everyone else then I'm just another guy on just another random night- my feelings for you are too strong to be in that situation).
As for why I feel like I never had you....
Insert from previous email from D to R:
This idea pissed me off. You told me in the shower you were talking about love but I thought this was about possessiveness. Well, it still sounds like possessiveness. If you have to "have" me, you can either take the part of me I can give or get out. I'm not going to be in a little box for you, just because you are insecure.
Well I think love & possessiveness do go hand-in-hand to some degree, if it didn't then *most* people wouldn't have a problem with their significant other fucking whoever they wanted. You tell me to get out, how easily those words seem to flow for you, "get out" I wish it wasn't so easy for you to say, or if anything, I wish it weren't so hard for me to adhere to. I'm doing the best I can. "I'm not going to be in a little box for you just because you're insecure". WOW is all I have to say to that. I'm not trying to clip a free-birds wings here, I'm not telling you you can't fly, but if your not willing to help with my insecurity then your free to fly without hindrance by me. That's brutal. How did I mis-judge your feelings towards me so badly again? If you know tell me! LOL First of all I started out in 2nd place, and I finished in 2nd place. And I thought I was the one in this twosome who treated dating like a game.
Insert from Previous email from D to R:
Now it sounds like you're worried about points and ranking, and that's not love, that's ego. I'm just a game.....
Tell me, how did I mis-judge your feelings for me so badly again? I mean I really thought we had something! Just a game, just a game. Silly silly me. Must have been that ego of mine that got in the way huh. Doh! The fact that you immediately call Mike to come see you as soon as I step back just solidifies my feeling of being 2nd best.
Insert from previous email from D to R:
Why wouldn't I call my best friend to be with me when I was down? You hurt my feelings and I'm lonely, and you decided not to be a part of my life. I don't believe there is one person who will always be there for me, but I know I am a dynamic enough person to make sure there is SOMEONE who will be there when I need them, even if it's not the person I really want there. I'm not going to be lonely, moping around my apartment, if I don't have to be. And if you think this means I don't care, so be it. I don't see why I have to look miserable for you to believe that I do care about you. Again, this all sounds like ego. You want me to show everyone how important you are. I think I already do that by giving you so much access to my life, but I guess I have to suffer to show it. How lame.
Have you ever heard the song "Cry" by Faith Hill? Yup, that sums it up. Maybe it is lame, but dammit i DO need to see you hurt for a minute. If your to proud to show it to me I'd say your the one with the ego, the alternative is your not to proud to show, you just honestly don't feel any pain and really don't care, which unless shown otherwise, I have to assume is the case. Especially given comments like "-you- fell in love". Hey maybe I am alone here, but don't chastise me for looking for signs you do care. "You want me to show everyone how important I am..." Your damn right I want you to show everyone how important I am, if I am important and worth fighting for then you will swallow your ego and do it.... Tell me again, who is the one with the ego here? I'm laying it out on the line, and your not willing to budge because you don't want other people to see you care. It's either that, or you really don't care, and I'd sure like to think it's not the latter. Tell me again, how did I mis-judge your feelings for me so badly? Heaven forbid you let your friends know I was important to you. The thing about it though, its not even that that kills me, what kills me is you saying that even if Mike left to go be with his ex-wife, you would STILL want to date other people in addition to me...
Insert from previous email from D to R:
Ralph-I've been to Arizona, Thailand, Mexico, Belize, etc..all this year, and all free. If my ex-boss call and wants totake me to Cabo San Lucas for the weekend, I'm going to go. If my ex in San Francisco calls & wants to fly me out, I'm going. I love to travel, and hate paying for it, and it's very important to me. you'd think I was dating the person I went with, I don't think so. I think it's more like being a geisha, providing a fun social atmosphere for people who cant do it themselves. You probably think this sounds like being a hooker, but whatever. I think all relationships involve give and take, and sometimes the bottom line is enough. I don't think you understand this, and will think I'm just using you anyway. I really truly care about you, I never would have had sex with you if I didnt and didnt trust you. But that's not enough for you, but I don't understand why.
I do understand you use what you have to get what you want. I don't understand how you can completely detach yourself from someone you care about for a trip to San Fransisco. Women date/marry men for money.
----------------------------------------------------FROM: DAISY
TO: RALPH
DATE:2005/08/10 Wed AM 03:25:18 EDT
SUBJECT: Re: plans?
I really want to call you right now, or come over, but it 0200 in the am. You say you're so humble that you can tell me you love me, but I still need to show everyone how important you are by begging to get you back. I think you miss the point. Loni, Chuck, Mary...they all know I get what I can, that I'm a geisha, profession dater, gold digger, whatever you want to call it. They also know you can't fund me. They know I truly care about you. If it was about money, it wouldn't have been you. I really like you. I really love you. But I'm not infatuated with you. I explained in the car, infatuation, your "red" love, to me is a passing thing. The only permanent love is the friendship/caring love. And I don't give that easily. You dismiss it because it's not your version, but that's all I have. I don't believe that the rare, fairly-tale love will ever happen to me, and I don't believe you feel that love towards me. My friend Cole that you've met, you know he's a former.
I know I could go back to him at any time, but I don't. If you can't trust me to manage my life and be honest with you, why on earth would you want to be together with me? What display of affection do you want anyway? I'm lost. I told you I think differently than you, and all I can come off with is that I wish you didn't love me like this, because it's making me lose my lover and my best friend, and that's some shitty love. I notice you didn't remark on the gift I left you...it wasn't quite $5, or from the flea market, but I wanted you to have it, because no one else will ever be Shiva for me.
You haven't said you want to see me tomorrow, but I think you do anyway, so I'm just going to come by. If you don't want to see be then you shouldn't answer the door, because I'm going to be there between 6-7pm tomorrow. And if you think I'm making you wait around on me, then take freaking Kristen to Happy hour. If your car isn't there, I'll get the point.
By the way, I've very guarded too. I let you read my diary, and I've only let one other person do that ever. I know you think you're baring your soul, but all you're saying is how you feel about me. I've let you see how I think for the last ten years. And I've told you how I feel about you, and I don't understand why me loving you in the only way I can is not enough. And as of Monday night, you DID say "Fuck this, I'm done with it". Just because you're explaining why doesn't change the end result. And you STILL won't reply back on my response to your invitation, and I think it's on purpose, to see if I'll hold your time with you being the one to be tentative. Well, I am holding it for you, but this is very frustrating. I didn't think I did this to you, I thought I gave you a clear synopsis of my schedule at the beginning of the week.
OH!!!! So you think #2 means I'd rather be with #1??? how about the idea that he's put up with my shit for a year, and you, the new interloper, expect the title? We've only known each other 2.5 months, and you've already said you're not willing to put in the time. That's not the kind of attitude that gets you promoted to #1.
Also, I have made you a priority in scheduling, but it wasn't enough. I NEVER wanted you to end up waiting for me on the couch, which is why I made a point to schedule time. I know things would pop up & I'd want for you to reschedule your commitments, but shit! your commitments where other dates, Jessica & Carol. And yes, if you're going to be sleeping with other people, I do need to put a little distance there, because I think for you to sleep with more than one person will change the way you feel about both of them. Honey, you may not realize, but I'm a little further down the fucked up road of life than you are, I've had my heart broken, I've been cheated on & lied to, and done it to other people too. I don't want to lose you as a lover or a friend, but you need to decide what you need. I'm NOT going to hurt you any more than I already have.
I still love you. I want that to be enough. You say I have that 1% of you forever, but yet you want me to give you all of me, just for a few months, and you promise to give it all back. Really, you promise? Cross your heart and hope to die? I can't do that, I'm not built that way. I can give what I gave, you have to decide if that's enough. It's a hell of a lot more than you thought you'd get going into this & a hell of a lot more than I thought I could give.
I am going to see you tomorrow (technically today)
----------------------------------------------------FROM: RALPH
TO: DAISY
SUBJECT: Plans?
No I get the point now....its all been a charade that I didn't see for what it was. You told me early on I was a little naive, and you were right!!! HAHA I wasn't naive at the time though, I knew it was what it was, but as time went on I did start losing sight of that, and started seeing something that wasn't there, that's not your fault, you never changed, I did!
Why do you feel the need to tell me you can go back with Cole at any time? Is that some kind of attempt to show I mean something to you, so you don't? I highly doubt Cole makes more money than me, but I don't think that's your point, I just didn't see what it was. I now see you view yourself as a service provider, and early on I was ready & willing to pay for that service, I did want to get dragged around town, and like your last regular, you got dinner & sex, and I got shown a good time. I'm the one that lost focus on what the nature of our relationship is, if anything I owe you an apology for that and if I could kick my own ass I would. I really thought you had developed similar feelings for me as I had for you, but your just very skilled at morphing into what I want/need you to be (which is why men pay you for your service I suppose!!) That is a win/win situation so long as everyone is on the same level. (which is where I went wrong, that's not your fault, I only blame myself).
As for seeing you today, yeah you can come by if you want. I think its all pretty settled and I think I know where your at on all fronts, but I reckon face to face conversation will put it all to rest, perhaps once & for all.
Thanks for the gift, I think it a bit ironic that you give it to me, then turn around and say no one will ever be Shiva for you, but none the less, thanks! I love giving & getting gifts, especially when they have personal sentiment-- stuff no one else would understand(admittedly, I'm confused myself about this one though, noone can be that for you, and yet you give it to me?)
As for the me wanting more from you for a few months, what I would have liked is to have been on an equal level with you, that's all. I wasn't proposing I give you 1% you give me 100%. But, as you pointed out, that'd be putting you in a box. You can imprison a wild animal, but you can never tame it- not even for a few months I suppose. You wish I didn't love you? So do I.